This weekend, Arkport Drama Club will be performing the stage rendition of "Clue," based on the 1985 murder mystery movie.
Performances will be Friday, May 20 at 7 p.m. Saturday, May 21 at 5 p.m. Sunday, May 22 at 2 p.m. Admission costs will be a monetary donation collected at the door; all donations will be used to fund future drama productions. Additionally, the concession stand will be open before the show and during intermission.
The cast is composed of over 40 students grades 7-12 and is led by the club's advisor Tomi Stratton and student directors Emily Pfaff and Abby VanOrder.
Stratton said, "Over the past two months, the actors have been tirelessly studying lines (even facetiming each other after practice to run lines again) and stage crew have been painting sets, learning new roles backstage, and creating props. After not having a drama club last year, I'm proud of all the work these students put into this production. We hope you enjoy the show!"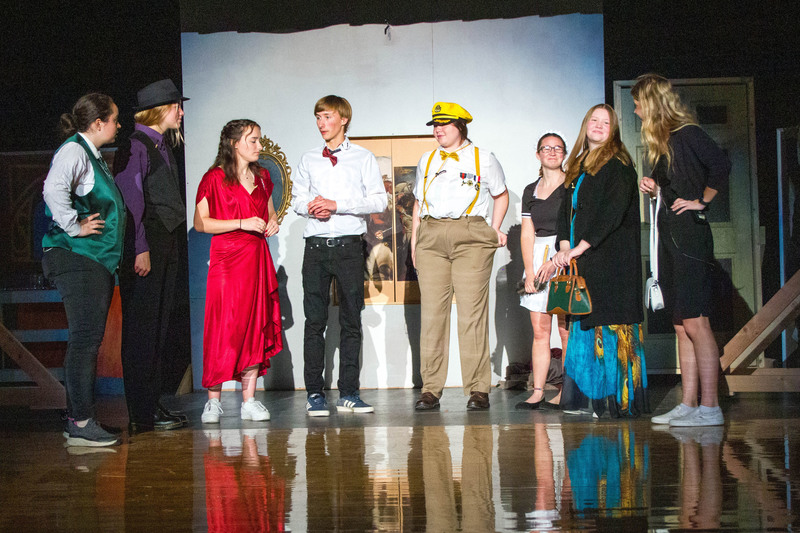 ---
Cast:
Emily Pfaff – Student Director of Cast (12th grade)
Nick Haraty – Wadsworth the Butler (12th grade)
Caiti O'Dea – Colonel Mustard (12th grade)
Jenna Franklin – Mrs. White (11th grade)
Karleigh Smith – Mrs. Peacock (12th grade)
Valerie Miller – Mr. Green (12th grade)
Bella Merry – Professor Plum (11th grade)
Naomi Haraty – Miss Scarlet (12th grade)
Ashley Hedges – Yvette the Maid (12th grade)
NyVeah Stewart – Newscaster (10th grade)
Julia Flaitz – the Cook (12th grade)
Morgan Leibham – Mr. Boddy (12th grade)
Ethan Giles – A Motorist (10th grade)
Paige Pfaff – An Unexpected Cop (10th grade)
Sophia Bill – Singing Telegram Girl (11th grade)
Reese Payne – Chief of Police (11th grade)
Hannah Franklin – Cop (9th grade)
Molly O'Dea – Cop (8th grade)
Mackenzee Biddle – Cop (7th grade)
Carly Franklin – Cop (7th grade)
Crew:
Abby VanOrder – Student Director of Crew (12th grade)
Jacey Payne – Director-in-Training (9th grade)
Rayhan Sayeed – Stage Right (9th grade)
Julianna Swift – Stage Right (8th grade)
Mackenzie Flaitz – Stage Right (11th grade)
Kailee Eymer – Stage Left (12th grade)
Neema Sayeed – Stage Left (11th grade)
Nicole Merry – Stage Left (9th grade)
Liliana Stauring – Prop Master (8th grade)
Lizzy Muhleisen – Music/Sound Effects (8th grade)
Daniel Geffers – Sound & Lights (12th grade)
Connor Mix – Sound & Lights (8th grade)
Rachel Bourgoine – Curtains (8th grade)
Evan Ludwig – Curtains (7th grade)
Sara Eymer – Spot Lights (12th grade)
Kian Cartella – Spot Lights (8th grade)
Sedona Bradley – Hair & Make-up (11th grade)