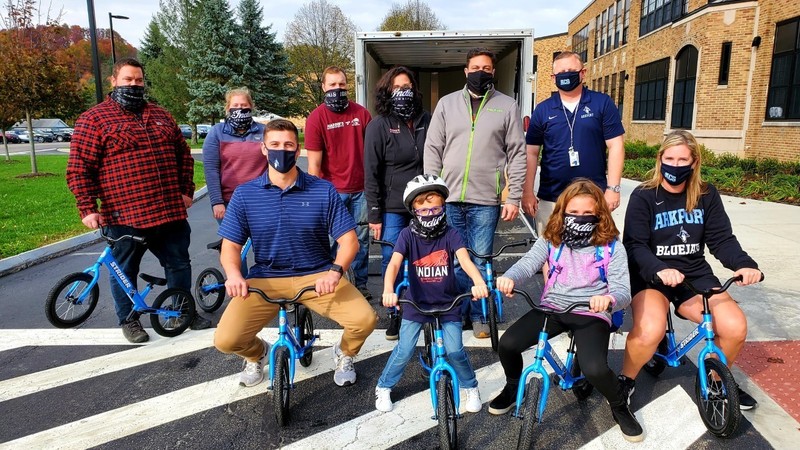 Thanks to a donation from Maddie's Motor Sports, every kindergartner in the Arkport Central School District will have the opportunity to learn to ride a bike in physical education class.
The district was recently gifted 20 strider "learn-to-ride" balance bikes and helmets from Mary and Graham Marcus of Maddie's Motor Sports in Danville, NY. The bikes' hybrid design will allow students to master balance before introducing pedals.
This donation was made possible through Maddie's Motor Sports' involvement with All Kids Bike, a program which aims to place kindergarten bicycle programs into public schools.
"As Arkport Central School District parents and community members, we are proud to get more kids on bikes," Mrs. Marcus said. "We look forward to helping them experience the joy and freedom that comes from riding a bike."
Students will begin pedaling into the program this spring.
The program's provider, The Strider Education Foundation, will offer the district support and resources for the next five years.
About Maddie's Motor Sports

Maddie's Motor Sports is a passionately driven, family-owned, and operated power sports dealership with two locations in Dansville and Farmington, NY. As riding enthusiasts, they know first-hand the freedom, confidence, and adventurous spirit that comes from learning to ride on two-wheels.
About All Kids Bike and The Strider Education Foundation

All Kids Bike is a national movement led by the Strider® Education Foundation, to place Kindergarten Learn-To-Ride Programs into public schools for free, using donations from individuals, businesses and organizations.
Pictured:
Back row, L to R: Michael Studley, Abbey Keogan and Ryan Hurlburt, Maddies Motor Sports' staff members; Mary Marcus and Graham Marcus, Owners of Maddies Motor Sports; Daniel Paulus, physical education teacher
Front row, L to R: Reed Warner, physical education teacher; Max Marcus, first grade student; Maddie Marcus, fourth grade student; Kate Crowell, physical education teacher