EDIT MAIN
2020-21 School Year Information & Resources
Skip to: Masks | Health Checks | COVID-19 Cases | School Schedules | Breakfast and Lunch | Child Care | Open/Close Criteria | Additional Procedures
Many district procedures and practices have been modified for the 2020-21 school year due to COVID-19. This page provides a guide to those changes.
Screening for COVID-19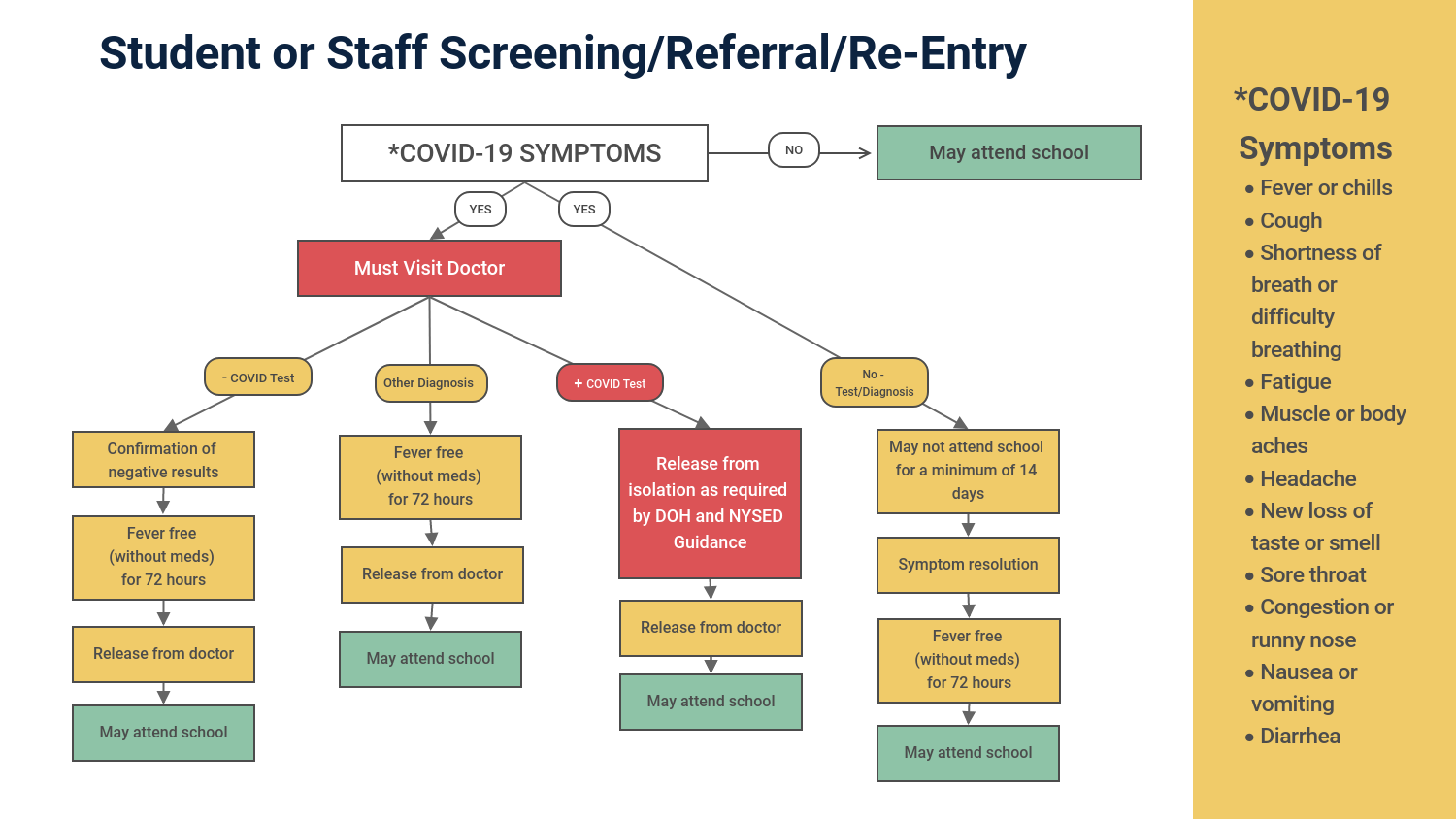 Masks
Students, staff and visitors are expected to wear face coverings inside and outside, including on the school bus, when six-foot physical distancing is not possible. Students will be allowed to remove face coverings during meals, instruction and for short breaks so long as they maintain appropriate social distance. Students who are unable to medically tolerate a face covering will not be required to wear one.
Health Checks
We ask parents and guardians to assess their child's health and the health of others in the household before traveling to school. If anyone in the household is showing the following symptoms without a known cause, the child should stay home:
Fever over 100 F
Chills
Shortness of breath or difficulty breathing
Fatigue
Muscle or body aches
Headache
Recent loss of taste or smell
Sore throat
Congestion
Nausea, vomiting or diarrhea
All students, staff and visitors will have their temperatures taken by a district employee prior to entering a school bus or building. All students will have their temperatures taken prior to entering a bus or the school building.
Read more about health and safety procedures during the 2020-21 school year..
COVID-19 Cases
The district will report positive cases daily to the state Department of Health's COVID Report Card dashboard. Anyone who is suspected of COVID-19 will be directed to contact their health care provider for evaluation and possible testing. State local health departments will be notified immediately of any positive COVID-19 diagnostic test result by an individual in school facilities or on school grounds.
Contact tracing and quarantine orders will be directed by the local health department. The district will participate fully in all contact tracing efforts so that local health officials can contact and notify families of any possible exposure to COVID-19, and direct families of the necessary steps (testing, quarantine, etc.)
School Schedules
Grades PK-6 have returned to in-person instruction on a daily basis, while grades 7-12 are following an A/B day structure. In the event the district needs to close part or all of the school, students will transition to a remote/distance learning model.
Read more about teaching and learning during the 2020-21 school year.
BREAKFAST AND LUNCH
Students will eat breakfast in the classroom and will eat lunch in the cafeteria or small gym. Students in grades 7-12 will grab a packed breakfast and lunch prior to the end of school to enjoy during their remote learning day.
Read more about food service procedures during the 2020-21 school year.
CHILD CARE
The Hornell YMCA is operating a before and after school care program Monday through Friday on school grounds.
Read more about the YMCA program's schedule and fees.
OPEN/CLOSE CRITERIA
Over the summer, Governor Andrew Cuomo announced that schools in New York State would reopen and close by region based on the following criteria:
Open: Schools can open in a region in phase 4 where there is an infection rate at or below 5% (14-day average)
Close: Schools will close if the regional infection rate rises above 9% (7-day average)
Pictured below is an infographic that outlines the governor's criteria.
Additional PROCEDURES
Please use the links at the left (or above, if you are on a mobile device) to view detailed information about the district's reopening procedures and policies. The slideshow below provides a summary.