HELPFUL LINKS FOR PARENTS
Thank you for visiting our website. At Arkport Central School District, we understand the vital role you play as parents in your child's education. When you support our schools, you reinforce a number of valuable messages for your child, such as responsibility, accountability, respect for rules and respect for others.
As educators, our goal will always be to work together with you to create an educational environment which enables every child to grow successfully into adulthood.
We welcome your involvement and we encourage you to take the following actions to ensure your child is successful in school:
Get acquainted with educators who have the responsibility of teaching your children;

Learn howyour schools operate and are funded;

Learn what is being taught to your children, and;

Lend a helping hand with student activities supervision.
FREQUENTLY ASKED QUESTIONS ABOUT GRADES 3-8 ELA AND MATH ASSESSMENTS
In anticipation of this year's upcoming state assessments in English language arts and mathematics for students in grades 3-8, the district is providing answers below to some of the most frequently asked questions about the examination process.
1. Why do we have an annual statewide test?
New York State's annual Grades 3-8 English Language Arts (ELA) and Mathematics Tests are designed to measure how well students are mastering the learning standards that guide classroom instruction and help to ensure that students are on track to graduate from high school with the critical thinking, problem solving, and reasoning skills needed for success in today's world.
The federal Every Student Succeeds Act of 2015 requires that students in Grades 3-8 are tested once a year in ELA and math. Additional tests in science are required once in elementary and once in middle school.
For decades, New York State students have been taking State tests. Since higher learning standards were adopted in 2010, no additional required State tests have been introduced for students.
2. When will the 2017 Grades 3-8 ELA and Math Tests be administered?
In 2017, the ELA will be given March 28-30, and the Math May 2-4.
The test dates may be slightly different for districts administering computer-based tests: the testing window will be March 27–April 3 for ELA and May 1-8 for Math. Districts participating in CBT would choose a maximum of three days during these windows for testing.
There are make-up test dates for students absent on test days.
3. What are Computer-Based Tests?
Computer-based tests are tests administered on a computer, tablet, or Chromebook. In other words, students take the test on a computer instead of using a pencil and paper.
The State Department of Education (the Department) is helping districts transition to computer-based testing (CBT). This spring, some districts chose to participate in CBT for the 2017 Grades 3-8 ELA and Math Tests. In Arkport this year, fourth-graders will be taking the computer-based version of the ELA test.
The computer tests and the paper tests are the same tests. The only difference is that students who take the tests on computers will click the answer bubble and type in their responses instead of using a pencil to fill in an answer bubble or handwrite a response.
The Department plans to have additional districts utilize CBT next year. The long-term plan is to have all districts using CBT for annual State tests.
4. What types of questions are asked on the tests?
The paper and computer versions of the tests include both multiple choice and open-ended questions, which assess grade level learning standards. The questions require students to apply their knowledge and explain their reasoning. Students spend time reading complex texts, writing well-reasoned responses, and solving real-world word problems, all of which provide the foundation for necessary skills to practice and master to succeed in college and careers.
Last spring, the Department released 75-percent of test questions from the 2016 tests – more questions than ever before for this testing program. You can view the 2016 questions at EngageNY (https://www.engageny.org/3-8).
The 2017 tests will have the same number of questions as the 2016 tests. Each 2016 test had fewer test questions in both ELA and math, as compared to previous years.
5. Why is it important for my child to take these tests?
These tests provide teachers and schools with information that can be used to guide their instruction and class planning and help them to understand how well students are progressing in the skills and concepts being taught in the classroom.
Results from the tests also help identify achievement gaps among different student populations. Without widespread participation in the tests, it is more difficult for school and district leaders to recognize these gaps and provide support and resources to the students who need them.
6. Do English Language Learners who are new to the United States take the Grades 3-8 ELA Tests?
The Department's current policy, in accordance with federal law, is to exempt English Language Learners (including those from Puerto Rico) who, on March 27, 2017, will have been attending school in the United States for the first time for less than one year for the 2017 Grades 3-8 ELA Tests only.
Schools may use the New York State English as a Second Language Achievement Test (NYSESLAT) in place of the 2017 Grades 3–8 ELA Tests, to meet participation requirements only, for recently arrived English Language Learners who meet the criterion above.
All other English Language Learners are expected to participate in the 2017 Grades 3–8 ELA Tests, as well as in the NYSESLAT.
7. Are there testing accommodations for students with disabilities?
Yes, testing accommodations are changes made in the administration of the test in order to remove obstacles to the test-taking process that are presented by the student's disability without reducing expectations for learning. Specific testing accommodations are recommended for individual students by the Committee on Special Education (CSE) or Section 504 Committee based on the student's unique needs.
Testing accommodations must be documented on students' Individualized Education Programs (IEPs) or Section 504 plans and could include: flexibility in scheduling/timing (e.g., extending the time of a test);
flexibility in the test setting (e.g., testing in a separate location); changes in test presentation (e.g., enlarged print); and changes in the method of response (e.g., use of a scribe for written responses).
Principals are responsible for ensuring that accommodations for students with disabilities are implemented on all State and local tests consistent with the recommendations in the IEP/Section 504 plan and in accordance with Department policy.
8. What will I learn from my child's score report?
The results of the annual assessments give you information about your child's academic progress and achievement. You will be able to see how your child did in comparison to other students across the State. The score report will be ready over the summer.
In addition to providing an overall scale score and performance level, both the ELA and math reports show how your child scored in specific skill and concept areas. For example, the ELA report provides scores for both reading and writing; the math report provides scores for the key math concepts for that grade level. This information helps your child's teacher(s) understand where your child is doing well and where he or she needs more support.
The score reports for parents were redesigned in 2016 to be to be more useful and understandable.
9. How will my child's scores be used?
You can use your child's scores to guide a discussion with your child's teacher(s) about additional supports that may be needed in class, as well as other ways you may be able to support your child's learning at home.
Scores can also be used to see how well schools, districts, and the State are progressing with New York's learning standards.
State law and regulations of the Commissioner of Education prohibit school districts from making promotion or placement decisions based solely or primarily on student performance on the Grades 3-8 ELA and Math Tests. Scores are not currently used to evaluate teachers in an official way.
10. What if my child did well on his or her report card but did not do as well on the State tests?
The annual tests are only one of several measures that are used to gauge your child's academic performance and represent a snap shot in time.
Report card grades are cumulative and based on many factors, including class participation, homework, attendance, quizzes, tests, and other instructional activities, all of which are important in determining a child's academic achievement but are not reflected in the annual State test results.
11. How long are the tests?
The ELA and Math Tests are each given over a three-day period. It is estimated that students in Grades 3 and 4 will spend about 60-70 minutes on the test each day, while students in Grades 5-8 will spend about 80-90 minutes on the tests each day. In general, the tests take up less than 1-percent of the total time a student spends in class each year.
However, since the 2017 tests will be untimed, exact test taking times will vary from student to student. The 2016 tests were also untimed.
12. How are New York State teachers involved in the test development process?
NYS teachers review and approve every passage and question on the Grades 3-8 ELA and Math Tests.
During test development, teachers from across the State gathered in Albany multiple times to evaluate and select questions for the 2017 tests. Every question on the 2017 tests was reviewed by at least 22 educators.
Since 2016, New York State teachers have been engaged in writing future test questions. These questions will first appear on the 2018 tests.
13. What else is being done to improve the testing program?
New York State teachers will continue to be highly involved in the development of future exams to ensure that they closely correspond with classroom activities and the State learning standards.
The Department is helping more districts to transition to computer-based testing, which will eventually make results available more quickly.
As in 2016, the Department will release 75-percent of the test questions and return instructional reports to teachers before the end of the school year.
For additional information about the testing program, please check out the New York State Education Department's parent guide, "2017 Grades 3-8 New York State Assessments."
"SMART SNACKS IN SCHOOLS" CONTINUES TREND TOWARD LEANER, HEALTHIER EATING FOR STUDENTS
School vending machines and other snack offerings have taken on a whole new look this year, as school districts across the country work to meet the newest set of nutrition standards implemented under the Healthy, Hunger-Free Kids Act.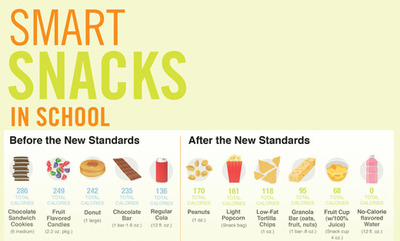 The new requirements, known as Smart Snacks in School, set limits on calories, sodium, fat and sugar in snack items and beverages sold at school and new restrictions on fundraisers where food and beverages are sold. Nutrition standards for lunch and breakfast meals, served as part of the National School Lunch Program, have been in place since 2012-13.
The U.S. Department of Agriculture (USDA) is charged with implementing all aspects of the Healthy, Hunger-Free Kids Act, which was approved by Congress in 2010. The legislation reformed nutritional standards for food sold in schools for the first time in more than 30 years and strengthened the hunger safety net for millions of children. The new snack rules, like other provisions of the law, are intended to help curb childhood obesity in the United States, which affects about 17 percent of children and adolescents, according to the Centers for Disease Control and Prevention (CDC).
Leveling the nutritional playing field
Specifically, the Smart Snacks provision seeks to ensure all other "competitive foods" being served at school — including food sold a la carte, vending machine items and in-school store offerings — provide substantive nutritional value to students and fall within specific calorie limits.
The new regulations still allow for many healthy snack products students will enjoy, including nuts, light popcorn, low-fat chips, granola bars, fruit cups, vegetables and no-calorie flavored water. Snacks that are generally not allowed to be sold in schools are: candy, cookies, cake, doughnuts, high-calorie energy bars and regular soda.
Click here to see a full listing of the Smart Snacks in School general standards.
The Smart Snacks rules took effect on July 1, 2014, and regulate food that is served during the school day. The USDA defines the school day as the time period from midnight until 30 minutes after the regular school day ends.
The standards become more complicated when applied to combination foods served as snacks. These are foods that contain more than one component representing more than one of the recommended food groups (fruit, vegetable, dairy, protein and grains). For example, a bagel with cream cheese must meet the nutrition standards as served, and not as two individual servings. Other examples of combination foods include blueberry muffins and cheese and crackers.
There are exemptions from the general nutrient standards for certain foods served as snacks. Some of these include: fresh, canned and frozen fruits with no added ingredients except water, or packed in 100 percent juice, extra light or light syrup; and fresh, canned and frozen vegetables with no added ingredients except water or a small amount of sugar for processing purposes.
A science-based approach
In creating the Smart Snacks provision of the Healthy, Hunger-Free Kids Act, the federal government asked the CDC to conduct a study with the Institute of Medicine (IOM) to review nutrition science and make recommendations about foods and beverages offered in direct competition with school-provided meals. The study resulted in a report entitled, "Nutrition Standards for Foods in Schools: Leading the Way toward Healthier Youth," that served as guidance for improving snacks found at school.
A study published in the Journal of the American Medical Association in 2012 showed obesity rates have tripled in children over the last three decades. Others have determined that unhealthy foods and beverages sold through vending machines, a la carte lines and other venues outside school meals can have a negative effect on students' diets and weight. The Center for Science in the Public Interest cites a study that shows secondary school students who drink sugar‐sweetened beverages at school consume 230 more calories on average over the course of a day than students who do not drink sugary beverages at school.
Impact on fundraisers, celebrations
In order for the snack regulations to cover all "competitive foods" sold in schools, Smart Snack rules also apply to fundraisers, including bake sales and all events where food and beverages are sold to students.
Some states provide an exemption for a certain number of fundraisers each year that can be held during the school day that are free from the nutrition regulations. The New York State Education Department, however, has not granted any exemption for fundraisers.
It is important to note the USDA does not play a role in regulating foods brought from home. This includes treats for birthdays or foods and beverages provided at after-school sporting events. Families should consult their school district's wellness policy or contact their building administrator to determine appropriate sharing of foods brought from home/provided in the classroom.
Smart Snacks resources for parents
Copyright 2013, Capital Region BOCES School Communications Portfolio; All rights reserved. For more information or permission to use, call 518-464-3960.
ARKPORT CENTRAL SCHOOL DISTRICT
PARENTS' BILL OF RIGHTS FOR DATA PRIVACY AND SECURITY
The Arkport Central School District is committed to ensuring student privacy in accordance with local, state and federal regulations and district policies. To this end and pursuant to U.S. Department of Education regulations, in compliance with Education Law 2-d, the district is providing the following Parents' Bill of Rights for Data Privacy and Security:
A student's personally identifiable information cannot be sold or released for any commercial purposes.
Parents have the right to inspect and review the complete contents of their child's education record. Procedures for reviewing student records can be found in the Board Policies 7240, 7241, 7250 and 5672.
State and federal laws protect the confidentiality of personally identifiable information and safeguards associated with industry standards and best practices, including but not limited to, encryption, firewalls and password protection, must be in place when data is stored or transferred.
A complete list of all student data elements collected by the state is available for public review in an Excel file at http://www.p12.nysed.gov/irs/sirs/documentation/NYSEDstudentData.xlsx. Parents may also obtain a copy of this list by writing to the Office of Information & Reporting Services, New York State Education Department, Room 863 EBA, 89 Washington Avenue, Albany, N.Y. 12234. Parents have the right to have complaints about possible breaches of student data addressed. Complaints should be directed to: Superintendent of Schools, at 35 East Avenue, Arkport, NY. Complaints to SED should be directed to: Chief Privacy Officer, New York State Education Department, 89 Washington Avenue, Albany, NY 12234; the e-mail address is cpo@mail.nysed.gov. SED's complaint process is under development and will be established through regulations from the department's chief privacy officer, who has yet to be appointed.
Parents have the right to have complaints about possible breaches of student data addressed. Complaints should be directed to: Arkport Superintendent of Schools.
This bill of rights is subject to change based on regulations of the commissioner of education and the SED chief privacy officer. Changes/additions are also anticipated when SED releases further guidance documents.
If you would like more information, please contact the Superintendent of Schools at 607-295-7471. More information is also available on the following websites:
U.S. Department of Education press release: Guidance for Schools Issued on How to Keep Parents Better Informed on the Data They Collect on Students (PDF)
Privacy Technical Assistance Center (PTAC): newly established one-stop resource for education stakeholders to learn about data privacy.
Bus transportation is provided for all students in Kindergarten through 12th grade who live more than 0.2 miles from school. Whenever practical, two or more closely spaced individual stops may be combined into a single central or group stop. Such combined stops shall be in keeping with the walking distance provision. Any change in bus assignments or stops must be approved by the superintendent.
The Late Bus Program will continue this year. Students who desire additional help in their work, or who are encouraged to stay by their teachers, must sign up in the Main Office for this bus by 2:20 PM. The late bus will be scheduled based on need and will leave the school at 3:55 PM.
Bus Safety
The bus driver has complete charge of the bus. Drivers will refer serious discipline problems to the school administration for appropriate action. Orderly behavior on school buses is necessary for safety. Riders should comply with all of the following rules. Be on time at the bus stop. Walk as far away from the traffic as possible when walking to or from a bus stop. To wait for the bus, pick a safe spot away from traffic where the bus driver can see you clearly. Always cross the road at least ten feet in front of the bus in full view of the driver. Do not enter or leave a bus until it has stopped completely.
Remain seated while the bus is in motion. To avoid standing it may sometimes be necessary for children to sit three to a seat. Keep head, hands, etc., inside the bus window. Keep the inside of the bus clean. Do not eat on the bus. "Horseplay" on the bus or at bus stops is prohibited. Abusive or obscene language, smoking, fighting, or other acts that distract the driver, are forbidden.
BOX TOPS FOR EDUCATION & BLUE JAY READING
We all shop for groceries, sometimes two or three times a week -- or more. Now turn those shopping trips into easy cash for your school, and encourage friends to do the same! Just look for the Box Top logo on hundreds of products like Cheerios, Hamburger Helperand Kleenex, in almost every aisle of the store. All you need to do is clip and send them in to your child's teacher -- each one is worth 10¢ for our school. This money will be used to help fund Blue Jay Reading initiatives.
As of January 5, 2012 we have raised over $500! Thank you everyone for all of your support.
Students are issued locks for all hall lockers and will be required to use the lock to secure their personal and school belongings. Students who do not use school issued lock will have their locker privileges revoked.
Students who have a specific need for a "non-combination" lock (e.g. visual impairment, orthodedic injury) may request a key lock. These requests should be directed to the Jr/Sr High School Principal's Office.
DAILY SCHEDULE CHANGE AND LATE START MONDAYS
Again this September, the bell schedule (listed below) allows for additional support time after the regular school day. What this means is that the school day will begin at 8:06 AM and end at 3:03 PM Tuesday through Friday of each week. And continuing this year, Mondays will be late start days, with school begin for the students at 8:50 AM and end at 3:03 PM. On Mondays student may enter the building after 8:45 AM, and on Tuesday – Thursday, school will be open for breakfast at 7:50 AM.
Why the changes?
First, the additional period that was added to our schedule last year allowing us to provide additional remedial and intervention work in core academic areas proven to be invaluable for ALL students. Second, we are implementing a late arrival day each week to allow for more frequent monitoring and collaboration among the staff regarding student progress and intervention strategies. And last, with the school day ending at 3:03 PM, students will have more opportunity to receive help outside the regular school day.
ARKPORT CENTRAL
2016-16 BELL SCHEDULE*
| | | | | | | | | | | | |
| --- | --- | --- | --- | --- | --- | --- | --- | --- | --- | --- | --- |
| | | | 2nd Start time on Mondays | | | | | | | | |
| | | | | | | | | | | | |
39 minute periods
4 minutes between periods
*Please note that school will begin 2nd period on Mondays.
Bell Schedule for 2016-17
An additional instructional period has been added to this year's daily schedule. The additional time was needed to allow students to receive additional instructional support during the year. The schedule is as follows:
School Opens for students for breakfast at 7:55 AM (student must report to the cafeteria)
Opening Bell 8:00
Warning Bell 8:05
| | | | | | | | | | | |
| --- | --- | --- | --- | --- | --- | --- | --- | --- | --- | --- |
| | | | | | Elementary Lunch (Grades K-3) | | | | | |
| | | | | | | | | | | |
| | | | | | | | | | | |
REGENTS ADJUST COMMON CORE IMPLEMENTATION
Full Implementation Delayed until 2022
Teachers, Students Protected from Impact of Assessment Transition
inBloom Delayed
The State Board of Regents P-12 Education and Higher Education Committees today adopted several measures presented in a report from a Regents' work group to adjust the implementation of the new Common Core Standards. The full Board is expected to act on the Committee reports tomorrow (Tuesday, February 11th). Included are changes that will delay the impact of Common Core-related state assessments on educators and students, and reduce the level of local school district testing associated with the new teacher evaluation law and higher standards for teaching and learning.
"We have listened to the concerns of parents and teachers," Board of Regents Chancellor Merryl H. Tisch said. "We've heard the concerns expressed at the hearings and forums, and we regret that the urgency of our work, and the unevenness of implementation, have caused frustration and anxiety for some of our educators, students, and their families. This report is designed to make significant and timely changes to improve our shared goal of implementing the Common Core. We have heard strong support for higher standards, but we have also heard a desire for more time. The Regents work group put together a series of strong adjustments that will help improve implementation without sacrificing the high standards we've set for our students. These changes will help give principals, teachers, parents and students the time to adjust to the new standards without stopping our progress toward the goal we all share: college and career readiness for every student."
"Any major shift - especially one involving 700 school districts, more than 4500 schools, and millions of students-is going to require adjustments and course corrections along the way," Education Commissioner John B. King, Jr. said. "The implementation of the higher standards has been uneven, and these changes will help strengthen the important work happening in schools throughout the state. As challenging as implementation has been, we have to remember one important fact: the old standards were not adequate. Every year, despite our state's many excellent districts and schools, 140,000 students leave high school without the skills they need for college and career success. We have to stay focused on giving all of our students the preparation they need to succeed after high school."
Rochester area Regent Wade Norwood chaired the work group.
"When the Board approved the shift to the Common Core four years ago, we knew we would have to make adjustments as the standards rolled out," Norwood said. "The work group balanced the concerns all of us have heard with the progress we've made toward raising the bar for our students. The changes we've made protect teachers and students from unforeseen and unintended consequences of the implementation without damaging the foundation we've built to help our students succeed in the 21st century."
Under the changes, the requirement to pass Common Core-based Regents exams at the college and career ready level will be extended. The class of 2022 will be the first to face the new higher graduation requirements, 12 years after the adoption of the standards in 2010. To ensure that students are not unfairly penalized by the transition to higher standards, the requirements for Academic Intervention Services (mandatory tutoring for struggling students) will be adjusted and guidance will be issued to districts making clear that the State Education Department (SED) neither requires nor encourages districts to make promotion or placement decisions using student performance on state assessments in grades 3-8, but if districts choose to do so, they should make adjustments to ensure students are not negatively impacted by the Common Core transition and should use multiple measures - not grades 3-8 state assessment results alone.
The State has not created any additional tests as part of Common Core implementation. All required state tests other than two high school social studies Regents exams - including all grades 3-8 assessments and high school exams in English, Math, and Science - are required by federal law. However, King noted, the Board recognized that a variety of pressures at the state and local level may have resulted in students in some districts being tested more than needed or rote standardized test preparation that crowds out quality instruction. The measures approved by the two committees today will reduce local testing by:
Increasing flexibility for districts to reduce local testing used to inform teacher evaluation

Creating an expedited review process for districts that propose to amend their teacher evaluation plans to reduce local testing

Eliminating local traditional standardized tests for K-2 used to inform teacher evaluations (The State does not administer traditional standardized tests in K-2.)

Capping at 1% the instructional time that can be used for local assessments used to inform teacher evaluations (The federally required State assessments in grades 3-8 English Language Arts and Mathematics account for less than 1% of instructional time.)
In addition, the Board and SED will support reducing standardized testing by local school districts through "Teaching is the Core" grants that require districts to review their local assessments and eliminate any unnecessary or duplicative assessments. King noted that New York's participation in the Partnership for Assessment of Readiness for College and Careers (PARCC) will be limited to field testing only during the 2013-14 and 2014-15 school years. Although only 1 percent of teachers were rated ineffective in the first year of statewide teacher evaluations, the measure approved by the committees today will provide added protection for educators by approving an emergency regulation to protect teachers and principals from unfair termination based on 2012-13 and 2013-14 assessment results in districts that did not timely implement the Common Core by providing adequate professional development, guidance on curriculum, or other necessary supports.
King also announced the State has delayed the launch of the data dashboards related to inBloom to allow SED to work with legislators to address concerns about data security and third party providers used by the State and districts.
The P-12 committee also approved SED applying to the U.S. Department of Education (USDOE) to renew the State's waiver from No Child Left Behind (the Elementary and Secondary Education Act). As part of the waiver renewal, SED will ask USDOE to allow students with severe disabilities who are not eligible for alternate assessments to be tested at their instructional level rather than their chronological age level, and allow English Language Learners to be tested in their native language for their first two years of assessments. In addition, the work group reaffirmed the Board's request to the legislature to fund a three year, $525 million Core Instructional Development Fund aimed at providing increased professional development for Common Core implementation, and to provide increased funding to reduce field testing, allow for the release of more test items, and support the development of native language arts assessments for English Language Learners.
Earlier this year, USDOE approved the request for a waiver from the Elementary and Secondary Act (ESEA) requirement that students who take Regents exams in mathematics when they are in seventh or eighth grade to also take the state mathematics assessment. The waiver will effectively end the "double-testing" of approximately 50,000 students, beginning with the spring 2014 assessments.